11 Ways to Relieve Back Pain at Home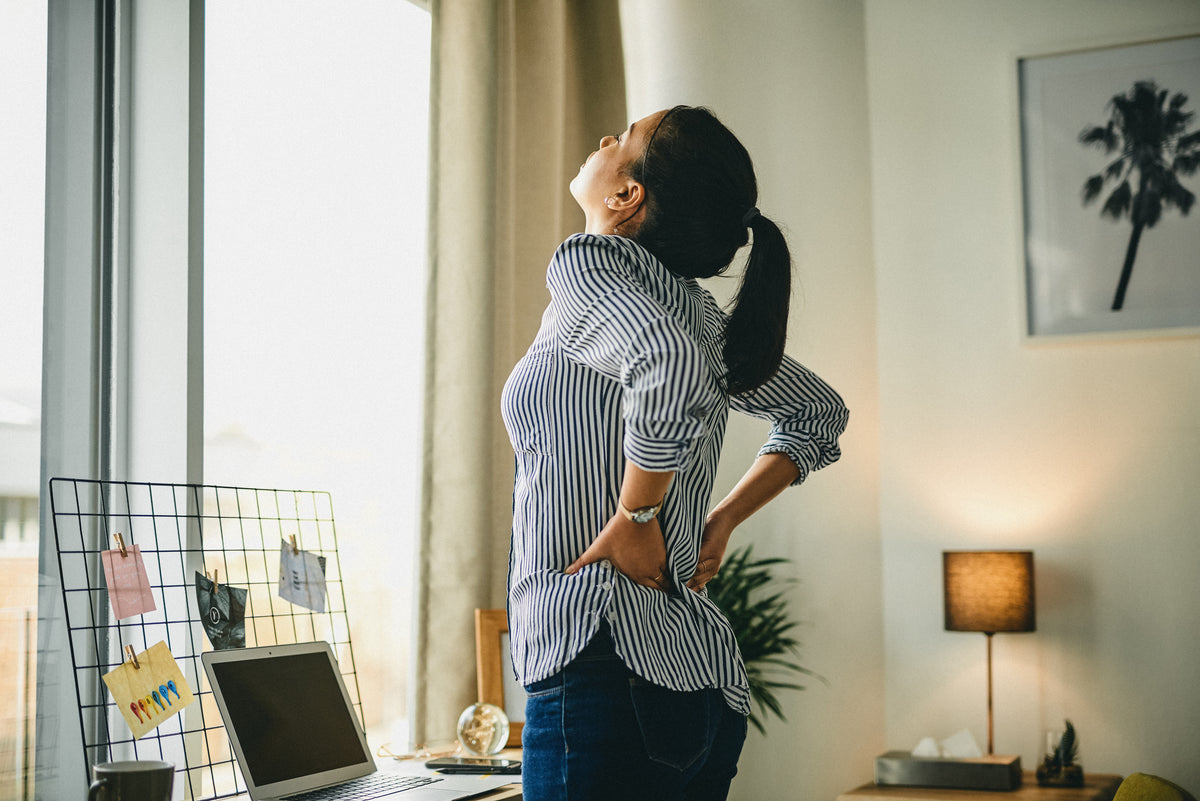 Everyday living takes a toll on all parts of the body, but especially on the back. Fortunately, there are many ways to treat back pain at home without seeing a doctor. Here we provide a brief overview of common back pain origins, how to alleviate them, and how a NeuroMD corrective therapy device can help you.
Common
Causes of
Chronic
Back Pain
Back pain is caused by a variety of factors. It can occur after an injury, or with the wear and tear of everyday life over time. However, some back pain can come as a result of more serious conditions such as:
Osteoporosis

Fibromyalgia

Kidney stones or infections

Tumors

Endometriosis

Pregnancy
11 Ways to Treat Back Pain at Home
If you experience back pain—for these chronic reasons, or for any other—you want relief quickly. Here are 11 remedies you can try to relieve your back pain at home:
1. Adjust Your Posture
Your sleeping or sitting position can negatively affect your back, resulting in pain. Poor posture takes a toll on your spine and shoulders, so it's important to ensure you perform daily tasks with the best possible posture.
Adjust your chair, desk, or work table to ensure you are sitting or standing correctly. Perform activities like sitting at a computer, reading, or simply looking at your phone in ways that do not harm your back.
2. Stretch
When your back, neck, and shoulder muscles are stiff and tight, gentle stretching helps release tension, often providing much-needed relief. By stretching daily, you also increase your back and shoulders strength, helping to prevent future back pain. 
3. Exercise
As with stretching, exercising strengthens the muscles in your back, making back pain less likely in the future. Exercise a few times a week as a preventative measure.
4. Take Medication
Some people address back pain symptoms by taking over-the-counter pain-reducing medications at home.
A common painkiller such as Tylenol is less effective for back pain than a non-steroidal anti-inflammatory like Advil or Aleve. The anti-inflammatory effects of these two drugs reduce the swelling in your back, which often supports faster healing.
5. Apply Ointments
There are various creams and oils specifically crafted to alleviate pain in the muscles of the body. Topical medicines for muscle pain have proven very effective. 
Ingredients in these creams—such as capsaicin, menthol, or wintergreen oil—cause the skin to feel hot and then cold, stimulating the nerves in the skin. They can dull the pain of an ache or injury, and provide some relief.
6. Use Hot and Cold Therapy
Muscles respond to temperature by either releasing or contracting. Within the first 72 hours after a back injury, using ice packs will cause muscles to contract, decreasing inflammation and swelling.
Heat relaxes a tense muscle and is most effective within the first 48 hours of initial pain and swelling. It can also dilate blood vessels, increasing the rate of healing. Heat is typically the best solution for chronic back injuries that are not necessarily triggered by any specific injury.
7. Eat a Healthy Diet
What you eat greatly impacts your muscles. Many foods are considered inflammatory, and processed foods or those containing high amounts of refined sugars and trans fats may contribute to chronic back pain. Limit how many of these you consume, and watch if it makes a difference.
Your weight can also have a tremendous impact on your back. Obesity adds more pressure to your spine and causes chronic pain. 
8. Use Supportive Footwear
How comfortable your feet are can affect your back and the pain you feel during the day. Flat footwear (like flip flops) or dramatic footwear (like high heels) often cause and/or worsen back pain. 
It's always important to wear shoes with cushioning and good arch support. If your shoes don't have built-in support, consider purchasing inserts for better comfort.
9. Rest
When your back hurts, you often need to give it, and yourself, some time to rest and heal. Unless a doctor tells you otherwise, this doesn't necessarily mean you need to lay in bed all day. 
To rest, simply take a break from your normal activities and don't push yourself as hard as you normally do. Skip the gym for a few days or carry lighter loads instead of trying to take everything in one trip. 
10. Massage
Gently massaging a stiff or sore muscle can also loosen the tension and the pain. Push gently on sore muscles, or ask someone you trust to help you. 
Be careful when you massage. Specifically, never massage a recent injury. Unless otherwise directed by a doctor, wait at least 72 hours to apply pressure to any back or muscle injuries. 
11. Use a Back Pain Device 
There are reliable products you can use at home specially designed to reduce back pain. Devices emitting electrical stimulation, like a NeuroMD corrective therapy device, can reduce the tension in your back and immediately alleviate your pain. 
NeuroMD Medical Technologies
NeuroMD has tried-and-tested products that can help you truly heal your back. The electrical stimulation from a NeuroMD device corrects the source of your pain—not only will you feel relief now, but you should also experience fewer incidents of back pain.
NeuroMD has:
Approval from the FDA

Completed over 1 million treatments

5 clinical studies displaying its success

A 60-day at-home trial and easy returns
With all that NeuroMD has to offer, it's easy to make the decision to stop back pain and order your device immediately.
What to Do If Your Back Pain Doesn't Get Better
Back pain often takes a few weeks to go away, but if the pain lingers or you can't get any relief with at-home remedies, it's time to see a doctor. 
If you ever experience back pain along with these other symptoms below, you should seek medical help as soon as possible.
Pain that spreads down the legs

Weakness or numbness in one or both legs

Significant swelling or redness

in/on the

back

Significant and unintended weight loss

A constant fever

Loss

of bladder control
Consult Your
Doctor
With any back pain, we recommend consulting your healthcare professional. Depending on the location of your pain and its cause, your doctor can tell you which at-home remedies will work best for you and if further action needs to be taken. 
Give these at-home remedies and a NeuroMD corrective therapy device a try, and see which solutions work best for you.