NeuroMD's Tips to a Healthy Spine
By  Brian H.
NeuroMD Specialist
According to a study published by Mayo Clinic neurologist, Dr. Devon Rubin, it is estimated that up to 80% of people will experience back pain at some point in their lives. If you are one of the many people suffering from chronic back pain right now, this October is your month. 
NationalSpine Health Awareness Month is observed every October as a public reminder of how important spinal health is to our overall well-being.  After all, our spinal health directly affects our mobility and quality of life. 
In support of World Spine Day taking place on October 16th, we here at Neuro MDput together a list of tips to help you protect your spinal health and avoid injury. 
Why is spine health so important?
Spine health is so important because our spine is one of the most important parts of our body. It allows us to perform every functional movement, from walking up a flight of stairs to bending over to pick something up.
If your spine is properly aligned, you will have the flexibility and mobility to live a healthy, productive, and pain-free lifestyle.
Whether you are an athlete or a grandparent, it is important to ensure your spinal health is well cared for.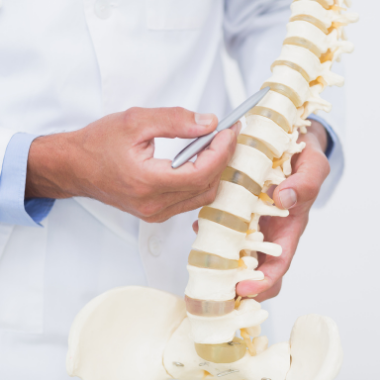 We're sure you're asking "how can I keep my spine healthy?". 
You're in luck! Here are some tips Dr. Lee Kim, chief of spinal neurosurgery at UC Davis Health System recommends to keep that wonderful spine of yours healthy1:
1. Walk: As simple as it sounds, walking is a safe and easy exercise to promote spinal health.
2. Stretch: Many back problems are the result of tight muscles. A daily regimen of simple stretches can help ease tense muscles and relieve pressure on your lower back. See our article on Best Exercises for Sciatica.
3. Sleep in a better position: Sleeping on your back puts pressure on your spine. Try placing your knees on top of a pillow or sleep on your side with a pillow between your knees.
4. Quit smoking: Smoking has been linked to decreased blood circulation to the discs that support the vertebrae. It also increases the likelihood of osteoporotic fracture.
5. Dieting: Excess weight can put pressure on your back. Your spine can become misaligned as your body attempts to accommodate the extra weight.
6. Pick items up correctly: It is very easy to hurt your back attempting to pick something up. Use proper technique or if the item is too heavy, request help.
7. Exercise your core muscles: Your lower back is under a lot of pressure supporting the rest of your body. The muscle tissue surrounding the spine needs to be strengthened and toned to relieve some of that pressure.
8. Sit properly: Sitting with poor posture can put increased pressure on the discs that support the vertebrae. Try to get up and walk around periodically.
If you are suffering from chronic lower back pain, spend some time this October focusing on how you can get back your spinal health and a pain-free lifestyle. Whether that means visiting your doctor, implementing a self-care regimen, or trying NeuroMD's Corrective Therapy Device, you can reclaim your quality of life.