The Top 3 Swimming Exercises to Help Relieve Lower Back Pain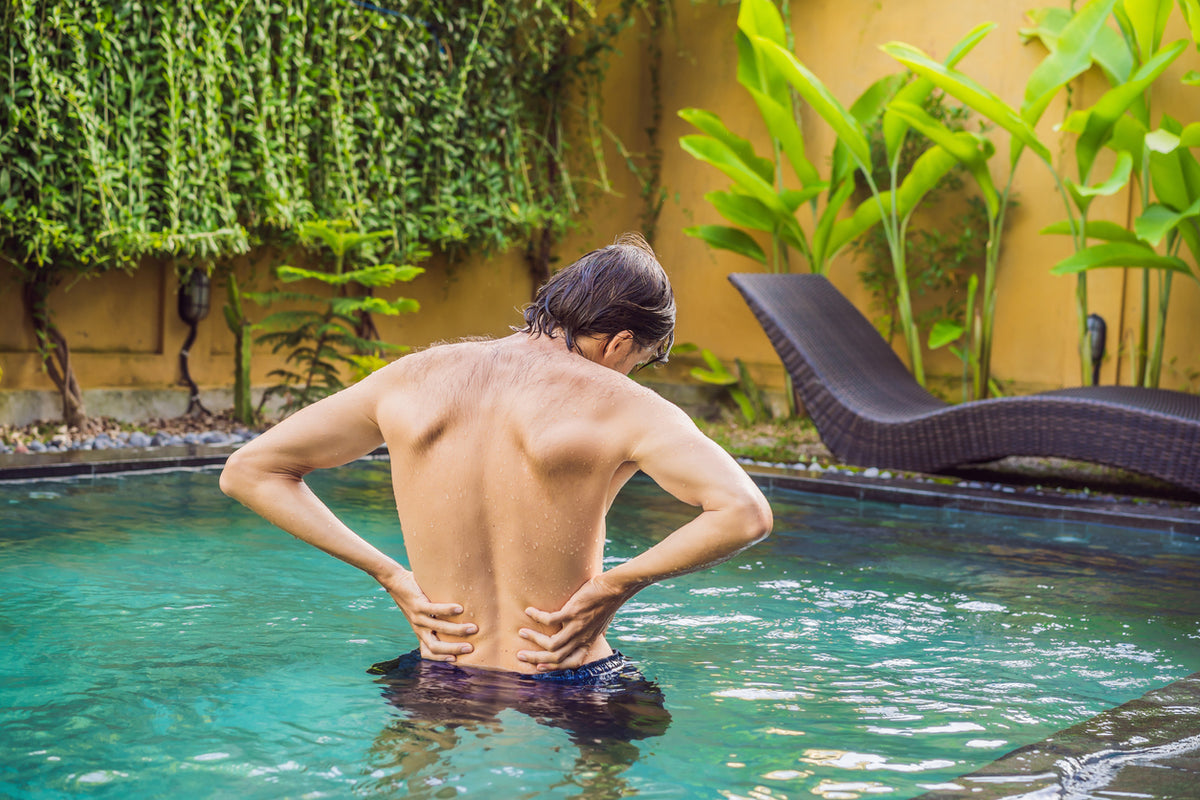 Lower back pain can be debilitating because your lower back serves as the core and foundation for almost every activity you do. Even sitting or lying down can feel uncomfortable when you have back pain.

Even though you've injured your back, one of the best things you can do is to exercise gently. You're not going to go out and set a new world record, but something as simple as walking or swimming is enough to keep your muscles moving and retain your strength as your back heals.
So, is swimming a good exercise for lower back pain? Swimming is one of the best options for exercise because the water supports your body weight, creating a low impact and high resistance environment. This makes it a perfect place for you to exercise without causing too much stress or pressure on your already injured back. 
Take a look to learn more about how swimming can help lessen your lower back pain. 
Before You Get in the Pool
While swimming is great, you still need to take time to prepare before you enter the pool. Here are four things you should always think about before you dive in.
1. Pool Safety
Lifeguards are always tired of yelling at people to walk, but it's an important reminder when you're healing from lower back pain. The pool deck is usually wet, and there's a good chance it will be slippery too.
Slippery surfaces are a perfect place for your back to be further injured. Remember to take it slow as you walk on the deck and avoid going too fast. If you do slip, try to lean into the fall, as long as it is in a safe direction and free of people or objects that could hurt you when you land. 
Twisting and trying to force the fall in a different direction can put immense stress on your back and cause additional or more severe back injuries.
2. Your Swimsuit
What you wear in the pool will directly change how the water interacts and pulls on your body. Baggy clothing in the pool, especially a baggy shirt, will only make moving in the water more difficult than it has to be.

One thing you can add to your swimsuit is a tight elastic belt or wrap around your lower back. A tight wrap can help add an extra layer of stability to your back while you move. 
3. Stretching
Before you do any exercise, you should always stretch. Gently stretching your entire body before you get in the pool will help loosen your muscles and tendons and increase your flexibility and range of motion. 
Remember to go slow and hold each stretch for 15-30 seconds when you are stretching. If you feel uncomfortable or any amount of pain while stretching, pull back or release the stress until it is at a comfortable level. 
4. Hydration
When you're working out on land, it's easy to see your sweat and remember to drink water to stay hydrated. In a pool, it's a bit harder to recognize when you need a drink. Rather than waiting until the end of your workout to get a drink, bring a water bottle with you and place it next to the edge of the pool, where you can take sips of water to stay hydrated the entire time. 
How to Exercise in the Pool
Not all water exercises are good options if you have lower back pain. Some require too much bending and twisting, and could lead to further damage. Here are three of the best swimming exercises for lower back pain relief. 
1. Water Aerobics
Water aerobics gets a bad reputation because classes are typically full of gossiping grandmas who don't want to get their hair wet. But it is one of the best exercises you can do in the water, which is why it's number one on the list.

Water aerobics is first on the list because it provides good cardiovascular exercise while being entirely customizable to each person to adjust their comfort and strength levels depending on the speed and intensity of each movement. 
A simple movement like pushing your arms to your side, when done slowly, provides only a little resistance and pressure on your body. However, that same movement done with more intensity will work out your arms, shoulders, chest, and upper back. 
A good water aerobics class can be a workout for everyone of all fitness levels. This makes it a perfect exercise if you have lower back pain because you can exercise to your comfort level without overexerting yourself or causing additional damage to your existing injury. 
2. Supported Kick Drills
If you are looking for more drills, you can go in the lap lane, grab a kickboard and do breaststroke and freestyle kick drills. The kickboard will help stabilize your arms, back, and core, reducing pressure on your injured back.

Do not do butterfly kick drills with an injured back. Unlike the flutter and frog kick, which only use the hips and legs, the dolphin kick is a full-body motion similar to doing the worm. It requires flexibility and strength in your upper and lower back, as well as your hips and legs, making it a horrible choice when trying to exercise with an injured back. 
3. Backstroke
Backstroke is an excellent stroke for back pain because, when done correctly, it is all about elongating your body by stretching into a streamlined position. 
The most common problem with backstroke that can hurt your back is tilting your head forward and dropping your chin towards your chest. When you do this, your spine rolls, dropping your lower back and legs in the water and making the stroke harder.
If you can easily see your chest, legs, or toes while swimming backstroke, your spine is out of alignment, and you risk hurting your back. Instead, you should be looking straight up at the ceiling or sky. If you still find yourself tilting your head to look at your body, imagine putting a cup of water on your forehead while you swim. 
Essential Tips When Swimming with Back Pain
No matter what you choose to do in the water, here are three tips you should always remember when swimming with back pain. 

1. Minimize twisting and bending. Keep your back safe by minimizing how much you rotate and bend. You can even use a snorkel while swimming to remove the need to twist while taking a breath. 

2. Keep good posture. Correct posture doesn't just help you go faster in the water, it also helps support your spine and prevent injuries. No matter what activity you're doing, remember to keep your spine supported and not bent or twisted. 

3. Go slow. Swimming is good for your lower back pain, but if you push yourself too hard, you can aggravate an existing injury and experience even more pain. Start at a low level of intensity and slowly increase to a comfortable level. If you feel pain, do not push through it. Instead, lower the intensity of your exercise. 
Try NMES Therapy with Swimming
Neuromuscular electrical stimulation (NMES) therapy can help relieve lower back pain while also strengthening your back muscles. An NMES device sends electrical impulses to the nerves in your muscles, forcing them to contract in a safe and controlled environment. This has been proven to help improve the strength of muscle groups and relieve chronic lower back pain. 
Contact us to learn more about NeuroMD's NMES back relief device, or buy it today for 50% off.