These Stretches Helped My Sciatica...
By Jennifer S.
NeuroMD Specialist
Sciatic nerve pain can be debilitating, trust me, I know. It can leave you with limited mobility and present many challenges in daily life.
When you're experiencing a flare-up, one of the last things you may feel like doing is exercising. However, it's periods of inactivity such as sitting too long that can aggravate symptoms.
Lack of movement weakens the back muscles that support the spinal structure. This can lead lead to strain and possible back injury.
So what can you do to alleviate sciatica? 
The answer is simple. Get up and get moving. Exercising and stretching on a daily basis can help to alleviate sciatica. And, believe it or not, I try to stretch at least twice a day and the results have been great!
My friends at NeuroMD, we compiled a list of light exercises designed to stretch the sciatic nerve and adjacent muscles to help you gain relief from your discomfort.
Before beginning any exercise regimen, it is important to consult with your licensed healthcare provider.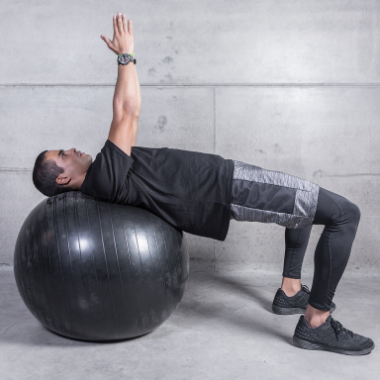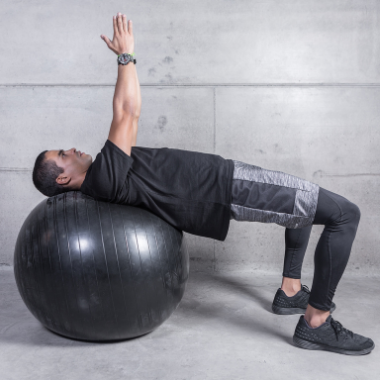 Here are some of my favorite stretches.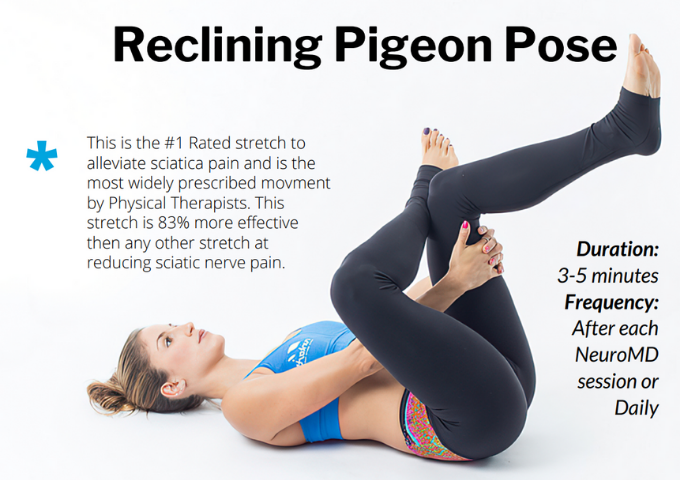 Welcome to my All-Time Favorite (I can really feel the stretch and it is the best feeling ever)...the Reclining Pigeon Pose
1. While on your back, bring your right leg up to a right angle.
2. Clasp both hands behind the thigh, locking your fingers.
3. Lift your left leg and place your left ankle on top of the right knee.
4. Hold the position for a moment. This helps stretch the tiny piriformis muscle, which sometimes becomes inflamed and presses against the sciatic nerve, causing pain.
5. Do the same exercise with the other leg.

My second favorite...the Lying Knee Twist
1. Lie on your back with your legs extended straight out.
2. Bend the right knee up and cross it over the left side of your body.
3. Hold in a position that allows you to feel a gentle stretch through the back and buttocks muscles for20 seconds.
4. Tighten your core muscles and rotate back to the center.
5. Repeat this exercise three times on each side.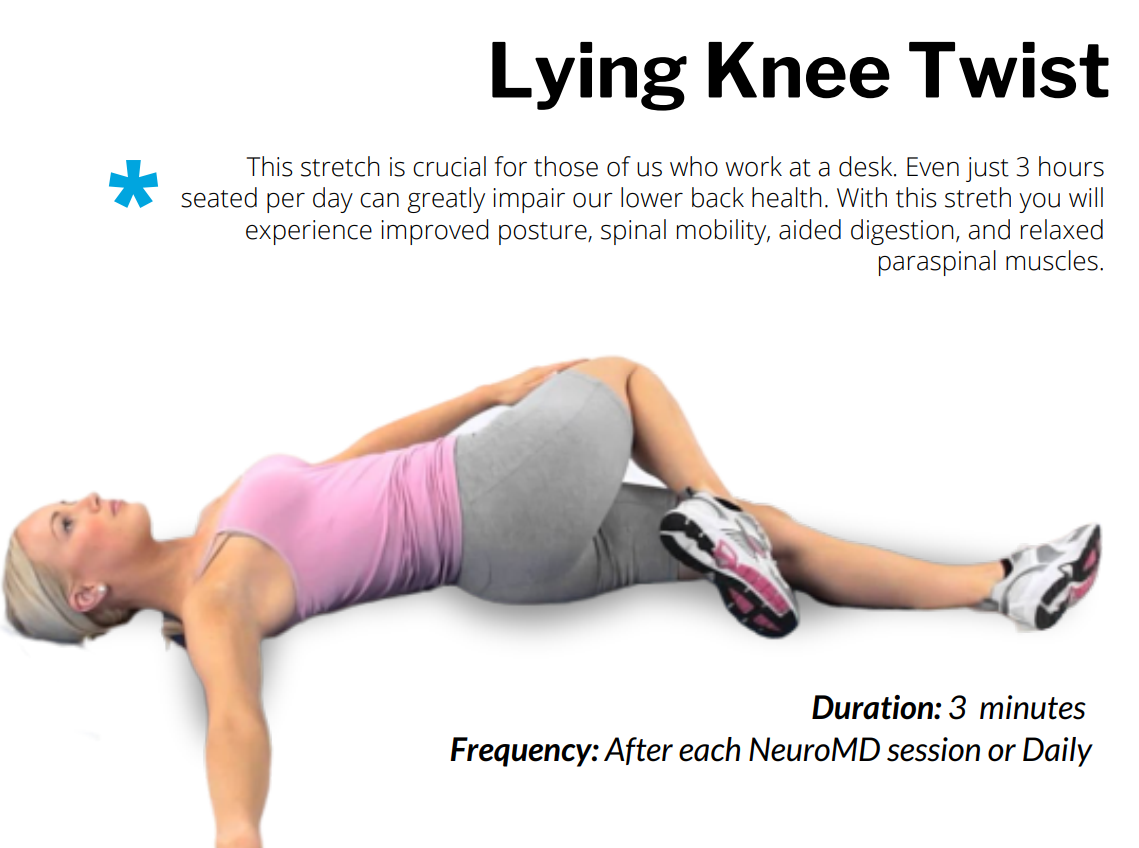 Although surprisingly simple, these stretches can do wonders for your sciatica pain if they are performed regularly and properly. Check out NeuroMD's complimentary ebook if you're interested in learning even more stretches! Click here to get the ebook. 
However, if your Sciatica pain lasts longer than six weeks, talk with your doctor. They may refer you to a physical therapist who can help you develop a personalized treatment plan.
Wishing you all the best on your pain relief! And remember, correct the source of the pain, don't just mask the symptoms. 
XoXo,
J.S.