Neuropathy and Back Pain: What You Need to Know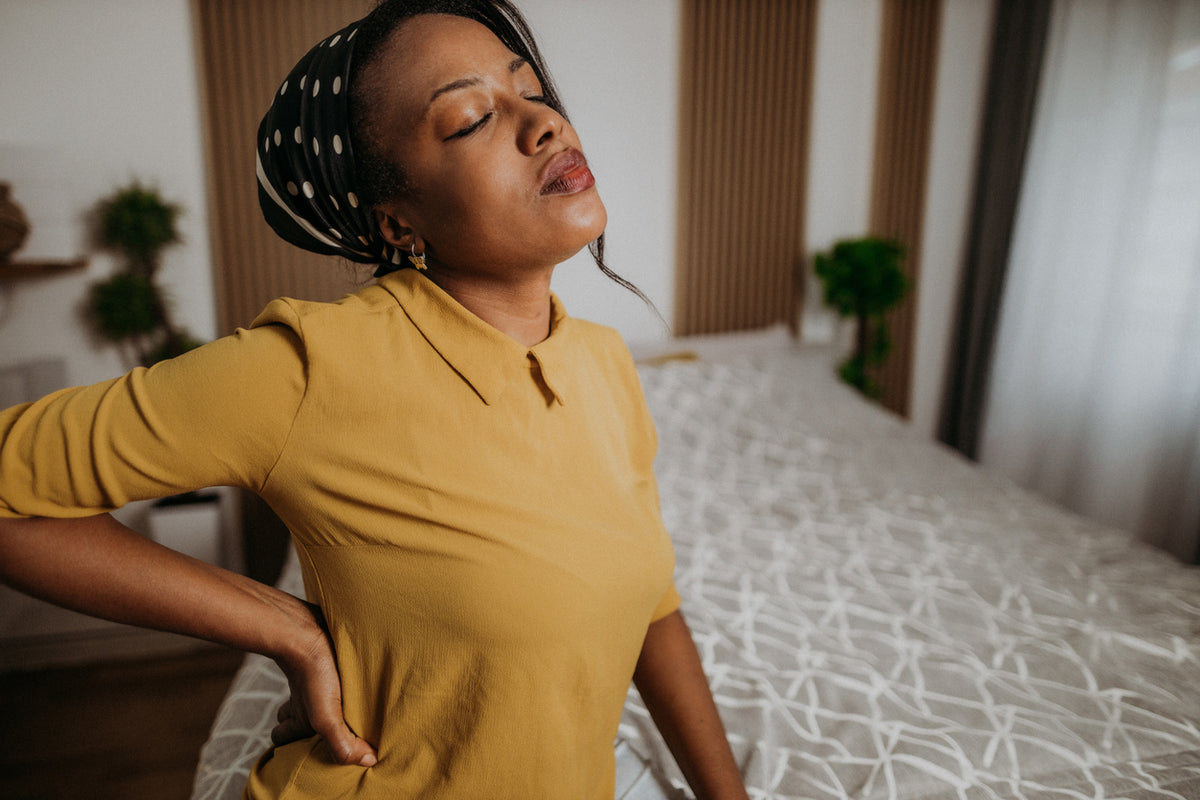 Neuropathy can cause painful, disruptive, and even disabling back pain. This condition is caused by nerve damage, which can be triggered by compression, inflammation, trauma, and more. You may suffer from neuropathy if you're experiencing stabbing pain, burning sensations, tingling, numbness, or weakness in your lower back or legs. 
Those curious about how back pain and neuropathy might affect other areas of the body may wonder: can back problems cause neuropathy in feet? What about legs or arms? In this article, we'll pull back the curtain and shed some light on the relationship between neuropathy and back pain. We'll also go over options for treatment and how to reclaim your quality of life.
What Is Neuropathy?
Neuropathic pain is highly distinct from other types of pain. Understanding this kind of pain comes from a comprehensive look at what pain even is and how it presents itself in the body. If an individual breaks a bone, for example, their nerves will carry pain signals from the site of the trauma directly to the brain.
With neuropathic pain, it works a bit differently. Instead of your nerves carrying pain signals to the brain, they are found in the nerves themselves. 
As you can imagine, this can create a severely painful situation. It makes sense why so many people suffering from neuropathy are desperate to find relief from symptoms. 
What Is the Main Cause of Neuropathy?
In the vast majority of cases, the nerves will become damaged or dysfunctional after injury or trauma. This can cause hypersensitivity to pain. The nerves will then send fault signals (false alarms) of pain even after the injury has fully healed. The initial injury could have occurred in either the central or the peripheral nervous system, and neuropathy can still be triggered.
Is Neuropathy Curable?
Neuropathic pain is a chronic condition that will not go away. Instead, we can focus on treatment plans and processes to alleviate symptoms and improve quality of life. Depending on which type of neuropathy you have, various treatment options are available to make your life much easier. 
Types of Neuropathy
Peripheral neuropathy refers to nerve damage outside the brain and spinal cord, in your peripheral nerves. It can cause weakness, pain, and numbness. It typically occurs in the hands and feet. It is a common condition, but mostly because it refers to many afflictions. Around 2.4% of people in the world have a form of peripheral neuropathy, and in people 45 and up, the percentage rises to 5–7%.
The other type is called central neuropathy, which refers to nerve damage and pain in the central nervous system (which includes the brain and spinal cord). It can be caused by trauma or injury and is much less common than peripheral neuropathy.
While many people associate peripheral neuropathy with hands and feet, it can also cause significant issues and discomfort in different parts of the body. It can affect body functions, including digestion, circulation, and urination. Those who struggle daily with mild to severe back pain may wonder if it could be linked to neuropathy.
In short, back pain and neuropathy certainly can be linked. The issue can sometimes extend beyond back pain and affect other extremities, including hands and feet. Identifying the back as the initial damage site can be extremely helpful in accurately diagnosing and treating neuropathy in the back, hands, feet, etc.
Can Back Issues Cause Neuropathy?
The short answer is yes—back issues can cause neuropathy, especially in severe cases. The truth is that situations are rarely that straightforward. Still, if a particular condition is serious enough and directly impacts the correct areas, it can trigger nerve damage and problems in other areas of the body. 
If you're suffering from back pain in a general sense, it is nearly impossible to tell whether or not the pain is related to or causing neuropathy. To get sufficient answers, you must dig deeper and pursue a diagnosis. Certain conditions are more likely to cause nerve damage than others.
What Conditions Can Lead to Back Pain and Neuropathy?
Degenerative disc disease can directly impact nerve problems in your back, legs, and feet. Specifically, degenerative disc disease of the lumbar spine. This disease is caused by the wear and tear process undertaken in the spine and can especially become prominent with age.  
Traumatic injuries can also lead to severe back pain and neuropathy. If an injury involves compression of the spinal cord, issues with discs, or other nerve-related problems, that can lead to a wealth of pain and struggle throughout multiple areas of the body. The feet are most commonly affected by trauma or other disruption to the lumbar spine. 
Peripheral neuropathy can result from infections, metabolic problems, inherited causes, and exposure to toxins. Some of these can also cause back pain or originate in the back. People suffering from this condition usually describe the pain as stabbing, tingling, or burning. 
One of the most common causes of neuropathy is diabetes. This can lead to pain in the back and feet especially, and comes with its own treatment path (more on that below).
Can Symptoms Improve with Treatment?
Luckily, treatment for back pain and neuropathy is very effective. Medical advances are made every day, which means it is more likely than ever that you'll find the perfect treatment option for you. 
Can Back Surgery Cause Neuropathy?
Yes, back surgery can cause neuropathy. Many people are surprised to hear this, as you usually go into back surgery with the hopes of alleviating back pain. Sometimes, though, back surgery can cause a compression of your spinal vertebrae, leading to back pain and neuropathy in either your back or feet. 
Unfortunately, neuropathic pain after spinal surgery is a frequently observed entity. It can affect your back directly or also include your legs. If this is the case for you, a few treatment options are especially useful to those suffering from neuropathy caused by spinal surgery. 
Those treatment options include:
Medication

Exercise

Manipulation

Physiotherapy

Spinal cord stimulation

Epidural steroid injections

Other injection therapies

Radiofrequency therapy

Surgical treatment
Can You Get Neuropathy in Your Back
?
Yes, you can get neuropathy in your back (especially in your lower back). Having neuropathy in your back can be wildly disabling, painful, and disruptive to your daily life. Identifying if you have this condition in your back can be difficult since there can be many causes of distressing back pain. 
If you have any of the following symptoms, you may have neuropathy in your back:
Sharp, shooting, stabbing, or shock-like pain radiating from your lower back into your legs

Burning in your lower back and/or legs

Pins-and-needles sensation in your back and/or legs

Weakness, numbness, or tingling in your legs
Neuropathy in your back can be caused by nerve damage due to metabolic conditions (such as diabetes), infections (like herpes zoster), trauma, injuries, inflammation, tumors, or toxins. Talk to your doctor about your symptoms to figure out the best course of action.
How to Treat Neuropathy
There are many different options for treating neuropathy, especially when it originates in the back or spine. Once you've worked with your doctor to identify the root cause of the condition, you can engage with a treatment plan that isolates the afflicted area and works to alleviate symptoms.
While neuropathy is a chronic condition that cannot be cured, we have many solutions for improving the quality of life for an individual suffering from pain. You aren't limited in your treatment options, either. A variety of pathways can lead toward lifting the burden of daily pain.
What Is the Most Effective Treatment for Neuropathy?
As stated above, you have lots of options for relief. The exciting truth is that we are no longer in the age of untreatable back pain related to nerve damage, and new treatment plans are coming out regularly.
Claiming that any one treatment is the single most effective one for neuropathy is difficult to do. Because this is a broad condition that affects people in many different ways, it's hard to say which treatment option will work best for an individual. It's best to educate yourself on the options available and work with your doctor to determine the best course of action.
Surgery
One of the most effective treatments for neuropathy is decompression surgery. This is not an option for everyone, and for some, it wouldn't even be the most effective, but for individuals suffering from compression in the spine that's causing neuropathy, it can be life-changing. 
Treating your neuropathy with surgery could result in less pain, numbness, tingling, and weakness. Years ago, successfully treating nerve damage seemed like a long way away, but today, we can employ multiple techniques. Decompression surgery is one of those. 
Decompression surgery is a minimally invasive procedure that can reduce lower back and leg pain, carpal tunnel pain, and other pain associated with nerve damage. It's important to note that decompression surgery is an umbrella term for several procedures. Those include the following:
A

corpectomy

removes most or all of the vertebral body, decompressing the spinal cord and nerves.
Osteophyte removal
removes the bony lumps (bone growths or spurs) that grow around osteoarthritis joints. 
A foraminotomy

involves the removal of bone or other tissue compressing a nerve.
A diskectomy

removes the damaged section of a herniated disk to relieve nerve compression and irritation.
A laminectomy

removes a section of the spinal canal's bone arch, relieving nerve pressure.
Medications
Certain medications can help to alleviate pain from neuropathy temporarily. Over-the-counter pain medications, such as anti-inflammatory drugs, can help with mild pain. If you're suffering from more intense symptoms, your doctor might prescribe painkillers. 
Diabetic Treatment
If your neuropathy is caused by or related to diabetes, a different approach has to be taken. To properly treat neuropathy when it is linked to diabetes, you can't just take over-the-counter medication and cover up symptoms. You have to target the condition at the root. 
Careful, thoughtful management of blood sugar levels can help to slow the progression of the condition and curb some symptoms. Talking with your doctor and working closely with them to create a treatment plan is the best way to handle your neuropathy pain. 
Can Back Problems Cause Neuropathy in Feet
, and What Can Be Done? 
Because a series of spinal nerves travel from the lower spine to the legs and terminate in the feet, there is a link between back pain and neuropathy in the feet. A compressed nerve near your hip, knee, or foot can also cause neuropathy and pain in your feet.
If your foot pain is caused by neuropathy in your back, or a compressed nerve in your spine, then that is where the issue must first be addressed. That might involve surgical intervention, steroid injections into your spine, or other forms of treatment to relieve the pressure that builds up at the site of compression. 
Suppose it is caused by compression of the knees or feet. In that case, that can come with another set of treatment options specific to those target areas, such as surgical intervention, steroid injections, etc. 
Is Electrical Stimulation Good for Neuropathy?
Diabetic peripheral neuropathy (DPN) is the most common complication of diabetes. It affects nearly 50% of people with diabetes throughout their life. 
Neuromuscular electrical stimulation is a nonpharmacological intervention for people suffering from peripheral neuropathy, especially when associated with diabetes. It doesn't involve taking medications or undergoing surgery, and it can be a safe option to supplement treatment plans or provide sufficient relief on its own.
Try NeuroMD's Therapeutic Device for Alleviating Back Pain
Finding a solution for back pain and neuropathy can be a daunting task that doesn't yield easy answers. If you're someone who can't consider surgical intervention, the issue is even more prevalent. Undergoing decompression surgery might be an option for you, but in the meantime, you need a way to address symptoms and alleviate pain safely. 
To address your symptoms directly, alleviate pain, and significantly improve your quality of life, check out NeuroMD's revolutionary therapeutic device. Stop settling for masking symptoms and start targeting the root cause of your lower back pain today.
Curious about the process and benefits? Contact us today.