How to Prevent Lower Back Pain When Lifting Weights [8 Things to Avoid]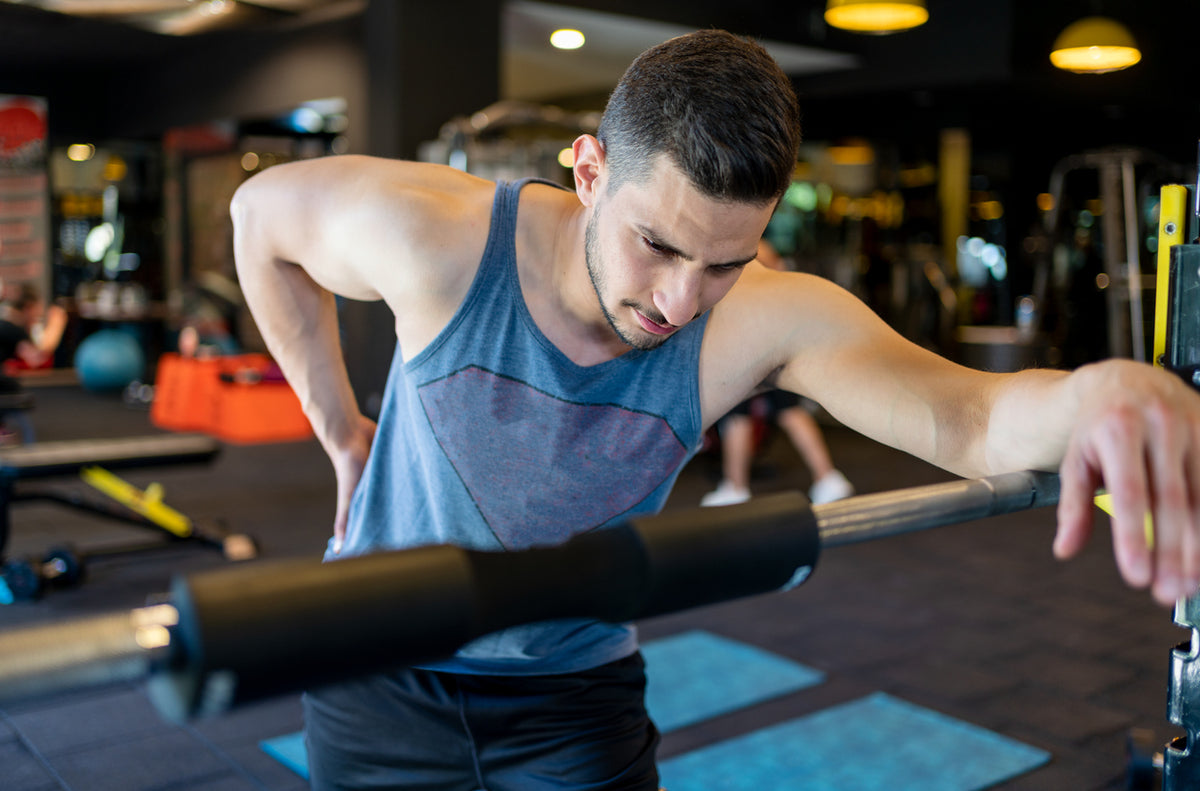 Weightlifting improves muscle strength and cardiovascular health. When done correctly, it builds strength in different muscles throughout the body—not just the arms. When done improperly, it can cause a variety of injuries. These injuries range from minor aches to muscle tearing and severe back conditions.
Keep reading to learn the most common mistakes people make while weightlifting, how to prevent lower back pain when lifting weights, and how you can treat injuries you might receive. 
8 Common Weightlifting Mistakes That Cause Back Pain
While lifting weights is a great way to stay healthy, one small mistake can cause you a lot of back pain. Make sure you avoid these eight mistakes to keep in shape.
1. Forgetting to Warm Up Before a Lifting Session
When you skip stretching and go straight to lifting, you're endangering your muscles. You need to stretch your muscles to become more flexible and allow a broader range of joint motion. Stretching increases blood flow to the muscles and will enable them to handle the strain you put them through while lifting.
Without stretching, muscles are tight and stiff and are more likely to tear under duress. Muscle tears are painful and can take a while to heal. 
2. Starting with Heavy Weights
When lifting weights, don't take on more than you can handle—especially at the start of your lifting session. With every new session, you should start at a lower weight than you ended with at your previous session.
Starting with heavy weights at the beginning of your session will put your unprepared muscles under a lot of strain. 
3. Having Bad Form
The problem with using an improper form while lifting is that it stresses the wrong muscles and joints. You can also lose control of the weights, which can bring a new set of injuries.
Avoid having a rounded back when lifting because it puts the hips at an awkward angle that causes excess strain. A rounded back can cause a herniated disc.
4. Going Too Fast
Sometimes there's not enough time in the day to get everything done, but rushing through your lifting session would be a mistake. Errors occur when you go too quickly, and errors can cause pain. 
One such mistake is over-reliance on momentum to finish a lifting exercise instead of depending on your body. When you do this, you tend to make exaggerated motions to create more momentum and cause injuries to joints and muscles. 
5. Lacking a Consistent Workout Schedule
A core aspect of lifting weights is making a little progress every session. You use the previous session as a foundation to build upon during the current session. If you don't work out often and consistently, it gives your body mixed signals. 
While taking a break is good if you have a severe injury, you should be as consistent as possible, even if you ache. The more you move, the less ache you should feel. 
6. Doing the Same Actions Every Session
It's best to use a variety of exercises during workout sessions. Performing the same lifting action repeatedly will cause inflammation and fatigue in your back. Instead, you should rotate different muscle groups for each session to build strength while letting specific muscles rest. 
7. Overdoing It Even If Your Body Says No 
While lifting, doing "just one more rep" when your body says to stop can cause significant pain. Your muscles have a certain level of abuse they can take every day, and if you go past that level, you can cause muscle tears and pinched nerves.
Instead, listen to your body when it says to stop. See if you can increase your rep amount in the next session. 
8. Skipping Stretching After a Session 
We've already talked about stretching before your lifting session but do you stretch afterward, too? If you don't, you're letting your muscles stiffen because they haven't expelled the lactic acid buildup gained while lifting. 
Can Lifting Weights Cause Lower Back Pain?
It can be hard to know if weightlifting is the specific cause of your lower back pain. Here are some common back pain conditions that, along with their symptoms, appear when weightlifting goes wrong. 
Common Back Injuries and Symptoms
Here are a few common reasons for back problems and their symptoms. These problems range in severity and length of healing time. 
Lumbar Strain
Lumbar strain is the most common back injury among weightlifters. You develop lumbar strain when you damage muscles and tendons, and they start to spasm. You can damage them from overuse, sudden movements, or even lifting something incorrectly.
Symptoms can differ from person to person, but common ones are:
Aches

Lower back pain

Muscle spasms in the lower back

Areas sensitive to the touch
Herniated Disc
You can get a herniated disc, also known as a ruptured disc, by lifting heavy weights or performing a deadlift. Damage to the soft area between the vertebrae, called the intervertebral disc, can cause this injury. 
The intervertebral disc acts as a shock absorber and a cushion for each vertebra. When it's damaged, the inner fluid leaks, and there's less cushion for the vertebrae. 
Symptoms can depend on the location of the herniated disc. If the disc is in your lower back, you can feel the following:
Back pain

Sharp or burning pain in your legs and feet

Muscle weakness
If the herniated disc is closer to the neck, you'll feel similar symptoms, but the pain will be in the arms, shoulders, and neck.
Strained/Torn Muscle
A pulled muscle is a muscle you've used too much or overstretched. A torn muscle is when muscle fibers and tendons are torn from the muscle. They both can take a while to heal and have similar symptoms like:
Problems with bending or walking

Pain when standing straight

Muscle spasms in the back

Muscle cramps

Achy feeling
Sprain
A back sprain is when a ligament is torn or stretched too much, and this can often happen when weightlifting. Many weightlifting exercises require flexion and extension—bending forward and backward, respectively. Sprains often happen when doing rows, deadlifts, curls, and bench presses. 
Symptoms include:
Pain when moving

Muscle cramps

Muscle spasms

Decreased range of motion 
Spondylolisthesis
When a vertebra slips forward and causes spine instability, it results in spondylolisthesis. Depending on the incident, the vertebra can put more pressure on another vertebra or nerve. Symptoms include:
Pain when standing or walking

Pain in the bottom of your thighs

Tight or painful hamstrings

Numbness or tingling in your lower back that spreads to the legs
How to Tell the Difference Between Good Pain and Bad Pain with Lifting Weights
Knowing when you should worry about the pain you're experiencing is crucial. While some pain is just part of working out, you must address other types quickly. 
Pain that's part of working out includes aches, sensitivity to touch, and burning that lasts a few days. You may not feel the pain right after the workout but experience it later in the day. If it doesn't go away after three days, it could be a cause for concern. 

You should contact your doctor if you're dealing with any of the following:
Sharp pain that lasts a few days

Inability to stand up or walk

Fever

Chills

Constant pain

Numbness or pain in your leg

Pain that lasts over a week

Stomach pains

Chills

Loss of bladder and bowel control
7 Ways to Treat Back Pain Due to Lifting Weights 
There are many ways to treat back pain and get you back to lifting weights in no time. There isn't a typical recovery time; it varies depending on the injury. Using these seven methods will help make recovery easier. 
1. Rest
Resting your aching muscles is crucial to your recovery. Depending on the severity of your pain, you may need to stop lifting completely, but most of the time, it's just a matter of not using those muscles. Try a different exercise to let your muscles rest, like walking, swimming, or stretching. 
The most important thing to remember is that you shouldn't rest for more than a day or two, or the muscles will stiffen up. 
2. Heat and Ice
Treatment with heat and ice is a classic method for muscle pain. Ice reduces inflammation and creates a surface numb feeling for pain relief. Use an ice pack for 20-minute sessions until your symptoms lessen.
Heat is good for relaxing muscles, increasing blood flow to the area, and encouraging faster healing. Use a heating pad for a short period or take a hot bath.
3. See a Chiropractor
A chiropractor could be an excellent help for consistent back pain. They can determine what is causing your pain and find a solution. Chiropractic treatment involves restoring motion and eliminating inflammation through noninvasive methods. 
4. Physical Therapy
If your injury is severe, physical therapy will assist in your healing and teach you how to avoid back pain when lifting weights. A therapist can teach exercises that strengthen your core muscles, teach proper posture, and more. 
5. Change Your Sleeping Position
Did you know the way you sleep could cause back pain? Sleeping on your stomach can put a strain on your back and neck.
Instead, try sleeping on your side or back. If you choose to sleep on your side, try putting a pillow between your knees to keep the spine in a neutral position. If you sleep on your back, put a pillow under your knees to ease the strain. 
6. Use Medicine
Using over-the-counter aspirin will help with inflammation and pain. Aspirin allows you to live your everyday life and heal at the same time. Talk with your doctor if you're concerned about how aspirin will interact with other medications. 
7. Nerve Stimulation
Chiropractors and physical therapists may use nerve stimulation to help reduce pain. They use a device that sends small electric pulses into your muscles. Depending on the device, the pulses can naturally activate the body's pain relief response or activate motor nerves to jumpstart the healing process.
How to Prevent Lower Back Pain When Lifting Weights
You can prevent injuries from happening while lifting weights. Most of these methods involve taking time and being conscious of your body throughout the lifting process.
Warm Up Muscles
We already said that one of the most common mistakes in weightlifting is not stretching before the actual lifting. Properly warming up your muscles before a workout will loosen your muscles and prepare them for your session. 
You should also stretch your muscles after your session to keep your muscles from tightening up and getting stiff.
Have a Coach or Trainer Teach You the Proper Technique
If you aren't sure what a proper weightlifting form is supposed to look like, ask a professional for help. A coach or trainer will teach you the form and correct you when you're not using it during your sessions. When training sessions are over, the proper lifting form will come to you naturally. 
If a trainer or coach isn't available, use weightlifting machines instead. You can use machines to keep your body in proper alignment. 
Focus on Reps, Not Weight
While the goal of weight training is to gain muscle and be able to lift more, you shouldn't focus on weight. Focus instead on repetitions. 
Repetitions are what will build and maintain your strength. Start with lighter weights and do multiple reps to achieve your goal. Once you have the proper form with the lighter weights and feel comfortable doing so, go to the next weight. 
Keep Breathing
People tend to hold their breath while lifting. Whether this is a conscious action or not depends on the person. 
You should never hold your breath while lifting. When you hold your breath, you strain your lungs, heart, and muscles. 
Try to make a conscious effort to breathe while lifting. Breathe out while lifting the weight, and breathe in while you lower it. 
Know When to Stop
If your body hurts when you do something, you need to stop and determine why. Was your form off? Have you overworked that section of your body? These questions can prevent accidental injuries. 
Resting your muscles is just as essential to your weightlifting journey as having a consistent lifting schedule. Muscles get the tiniest tears when lifting weights, but you don't feel them because they heal within a day or two and strengthen your muscles.
If you don't let those tears heal, they'll develop into bigger ones that cause pain and weaken your muscles. 
Should You Lift Weights If You Have Back Pain?
Yes, as long as you're careful. Under no circumstances should you lift when experiencing any of the bad pain symptoms listed previously. 
If you're feeling sore but don't want to mess with your lifting schedule, use lighter weights and more repetitions or a weight machine so you can still exercise while letting your muscles recover. 
Treat Your Lower Back Pain at Home with NeuroMD's Corrective Therapy Device®
Knowing how to prevent lower back pain when lifting weights is essential. It's equally important to understand how to treat your pain when it occurs. While you can perform many treatments for back pain at home, one treatment method is usually only available through a medical professional: nerve stimulation.
NeuroMD has created a device that will stimulate your muscles to contract and relax 108 times for 25 minutes through neuromuscular electrical stimulation (NMES). All you have to do is apply the device to your back and turn it on. You can make our Corrective Therapy Device a part of your workout routine!
Stimulating your muscles improves healing time, reduces inflammation, and stabilizes your muscles. Muscle stimulation can get you back to weightlifting in no time. 
Contact us today to learn more about the best NMES device on the market, or take our quick pain assessment. Get pain relief now with our back pain device!