Can a Chiropractor Help Spinal Stenosis? [A Look at 5 Treatment Options]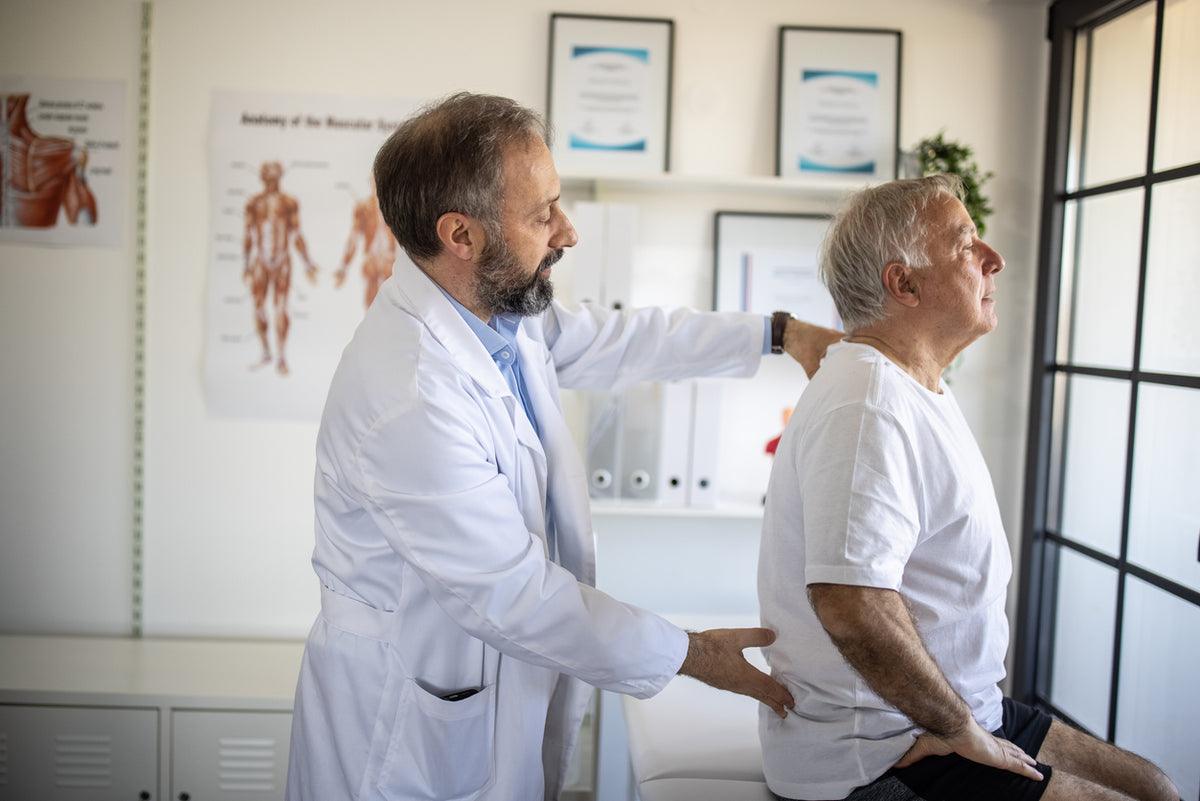 If you've recently been diagnosed with spinal stenosis or you've been managing symptoms for a while now, you may be looking for the best treatment options. It's more common than many people initially think—in fact, over 95% of people experience degenerative changes to the spine by the age of 50. While it can be challenging to isolate the root cause of the affliction, the symptoms are recognizable. 
Spinal stenosis can lead to mild to severe back pain, numbness, weakness, and more disruptive symptoms. The condition becomes more prevalent with age. While there are a few traditional ways of treating this condition (such as pain medication, steroid injections, and surgery), many healthcare providers suggest starting with natural alternatives before proceeding to more invasive options. 
A chiropractor may come to mind when you think of natural therapeutic solutions. But can a chiropractor help with spinal stenosis? What about other natural approaches? Is there anything you can do to target your condition at the root, rather than just mask symptoms? The answer is yes, yes, and yes.
In this article, we'll dive in and break down the various approaches to spinal stenosis treatment and talk about which ones might be right for you. Whether you find a solution that works for you and stick to it or realize that a combination of therapies is your best choice, the goal is to provide lasting relief. 
What Is Spinal Stenosis?
Spinal stenosis is a painful condition caused by the narrowing of the spinal canal. It occurs when one (or several) foramina, also known as bony openings, within the spine begin to narrow. This reduces the space for nerves, which can lead to compression of the nerves. Depending on the location and the severity of the condition, compression of the spinal cord or nerves can cause numbness, weakness, cramping, tingling, and pain. 
Several years can go by before an individual detects this condition. The progression is gradual enough in many cases that symptoms don't present themselves right away. Sometimes, special imaging is the only way to accurately diagnose this condition, but without noticeable symptoms, it's difficult to discern when special imaging is necessary.
Treatment options will vary depending on the type of spinal stenosis and the precise cause. 
Locations of Spinal Stenosis
One of the most important things to identify in a case of spinal stenosis is the exact location of the compression. There are a few ways physicians categorize types of spinal stenosis, and the first is by pinpointing the area where the affliction is occurring.
Spinal stenosis occurs in the following areas:
1. Lumbar spinal stenosis directly impacts the lower back region. In this type of condition, the legs are primarily affected. 
2. Thoracic spinal stenosis occurs in the middle back region. It can affect a variety of things and is often detected through special imaging. 
3. Cervical spinal stenosis is present in the upper back region, and it can impact the arms.
Your spine is deeply ingrained in a highly complex system—your nervous system. Isolating the location of compression in your spine is crucial to accurately diagnosing and treating the affliction.
While the location in the back is an essential part of the location diagnosis, physicians can also categorize types of spinal stenosis by the section of the spinal column that has narrowed.
Types of Spinal Stenosis
Many people don't realize that spinal stenosis is a general term for several specific conditions. Spinal stenosis simply means the narrowing of the bony openings in the spine. Depending on the location of the narrowing and nerve compression, there are individual terms to describe the condition. 
The three most relevant types of spinal stenosis are central canal stenosis, foraminal stenosis, and lateral stenosis. We'll cover each of these types in more detail below.
Foraminal Stenosis
The intervertebral foramen is the bony opening near the spinal nerve exit in the spinal canal. It rests between adjacent vertebrae. If one or more foramina narrows, it's called foraminal stenosis. 
This can be a particularly severe and painful type of spinal stenosis, where the spinal nerve lacks space and can become painful, pinched, or even dysfunctional. 
You can find this type of stenosis anywhere along the spine, but it occurs most commonly in the lumbar spine. In certain cases, physicians will see it in the cervical spine as well. 
Lateral Stenosis
When spinal stenosis occurs in the rear spinal canal where nerve roots branch off, it's known as lateral stenosis. You may also hear lateral stenosis called lateral recess stenosis. Oftentimes, the terms lateral stenosis and foraminal stenosis are used interchangeably because they both refer to stenosis present lateral of the spinal canal. 
Central Canal Stenosis
The vertebral foramen is the bony opening in the center of the vertebra. It protects the spinal cord. When one of the vertebral canals narrows, that's known as central canal stenosis. This can also be an extremely damaging type of spinal stenosis, as the spinal cord itself can become significantly compressed, resulting in pain and dysfunction.

Central canal stenosis occurs most often in the lumbar or cervical spine.
3 Traditional Methods of Treating Spinal Stenosis
For those living with spinal stenosis, there is a range of options available for treatment. Cervical and lumbar spinal stenosis may respond to steroid injections, where surgery might be required for lumbar stenosis. 
For everyone dealing with pain and other symptoms from this condition, rehabilitative exercise is a great supplementary option. It can lead to better mobility, pain management, and more benefits. 
Below, you'll find five effective methods of treating spinal stenosis. Depending on each case, you may benefit from one or a combination of these approaches.
1. Pain Medication
Pain medication is often prescribed to those dealing with lumbar or cervical stenosis. This type of stenosis can be so painful that it is necessary to control and manage those levels with various degrees of medication.
For minor cases, you may be able to get away with over-the-counter anti-inflammatory medications. They can work pretty quickly and provide temporary relief. For others, you may need prescription-strength options. 
The downside of pain medication is, as stated, that they provide temporary relief. They can only mask your symptoms, not address them. They can also lead to adverse side effects and potential addiction. 
2. Steroid Injections
Epidural steroid injections and cortisone steroid injections are two options for pain relief, as well. Though they come with similar caveats to pain medication: they provide temporary relief. Steroid injections can also come with a host of undesirable side effects.
Depending on the severity of your symptoms, they may still be a necessary option to reclaim some quality of life.
3. Surgery
In severe spinal stenosis cases, your healthcare provider may recommend spinal surgery. During the procedure, vertebrae pieces (also known as the lamina) are removed, and the vertebrae are fused. In more severe cases, bone grafts may be needed to form a solid bridge between the vertebrae segments. 
Results of surgery tend to vary from patient to patient, which is why your healthcare provider will ensure that the potential for reward outweighs the risk. Spinal surgery can be invasive and require a lengthy recovery. For those with severe cases, though, it can provide immense relief and make it easier to return to daily life without painful disruptions. 
How Can a Chiropractor Treat Spinal Stenosis?
Many individuals diagnosed with spinal stenosis wonder about alternative treatments. Whether traditional methods aren't an option for you or you would prefer a different approach, you are not limited in your choices for treatment.
Chiropractic treatment, and other alternative approaches, can be even more effective than medication, steroid injections, or surgery. Depending on the type of stenosis you have, it is worth pursuing chiropractic treatment to find out if it can do more to alleviate your symptoms. 
It's important to note here that at the time of this writing, spinal stenosis is not a curable condition. It can only be managed. That is why chiropractic care is such a desirable option—it allows for a more sustainable solution. 
What Is the Process?
The first thing you'll do after finding the right chiropractor is to discuss your medical history and undergo a physical exam. This will give your chiropractor the information they need to accurately address your symptoms and their root cause. 
After this, the chiropractor may feel it's necessary to order some magnetic resonance imaging to investigate your pain. 

The best thing about this option is that it's a gentle, effective, and non-invasive treatment. Chiropractic therapy can work wonders for those searching for a more natural approach to alleviate their symptoms. 
How to Naturally Treat Spinal Stenosis with a Therapeutic Device
If you're looking for natural ways to treat spinal stenosis or to supplement other treatment options, try a therapeutic device. This lesser-known option can work wonders for those looking for serious relief from symptoms.
If you've found a treatment option that works for you, be that medication, injections, or chiropractic treatment, pairing it with a therapeutic device can help you reclaim your quality of life. 
What Is a Back Pain Therapeutic Device?
A corrective therapy device for back pain can help restore your lower back health and provide lasting relief. The right one will come equipped with pre-set, clinically studied Neuromuscular Electrical Stimulation (NMES) parameters to make operation even easier. 
NeuroMD's corrective therapy device is the most advanced, FDA-cleared system on the market. It provides electrical stimulation to correct the source of the pain. You can get started on the path to relief while also saving money on surgery or extensive therapies. 
NeuroMD's corrective device targets the root cause of your condition, not just your symptoms. During the time you're wearing the device, it will cause your muscles to contract and relax 108 times over the 25-minute session. NeuroMD's device accomplishes this by stimulating deep motor nerves with clinically studied NMES parameters.
By healing damaged tissues, reducing inflammation, and strengthening your spine-stabilizing muscles, using a therapeutic device can dramatically reduce your pain levels.
What Is the Safest Way to Treat Spinal Stenosis
?
Consulting with your doctor is the best way to know the safest treatment option for your case of spinal stenosis. There are a variety of options, so you shouldn't feel limited in your potential for symptom relief. 
Surgery is the most invasive treatment option, and it can be costly as well. Many people try to use alternative approaches before committing to the surgical route. Pain medications also come with a long list of risks, including the possibility of addiction. 
For some people, the above options are the best ones and make the most sense. For others, natural alternatives such as chiropractic treatment and therapeutic devices are the safest and most effective route. 
Everyone's journey with spinal stenosis is different. That means everyone's treatment solution is going to be different. It's difficult to pronounce a "safest" option.
Use NeuroMD's Corrective Therapy Device® for Back Pain
Since over 97% of back pain is caused by musculoskeletal issues, it's time to stop masking symptoms with ineffective creams and pills. Those that struggle daily with persistent lower back pain know it can significantly disrupt daily activities and even prevent many of them. By improving your lower back health, you can find lasting relief from back pain, leg pain/sciatica, hip pain/SI joint pain, and muscle spasms.
NeuroMD's treatment device is not to be confused with other approaches, such as TENS, which focuses on stimulating sensory nerves to temporarily mask the pain signals from going to the brain. Instead, NeuroMD uses Neuromuscular Electrical Stimulation (NMES) which targets motor nerves and contracts the muscles. This directly affects the musculoskeletal system. Check our back pain device today!
For more information about this alternative, safe, effective solution for back pain, contact us today.